Kirtan-arrangementer
Oplev kirtan: meditativ fællessang i København
(See description in English below)
Leder du efter en unik meditativ oplevelse, hvor fællesskab, sang og musik går op i en højere enhed? Vil du gerne i bedre kontakt med dig selv og dine sanser, og samtidig opleve sangglæde i fællesskab med andre? Så er kirtan måske lige noget for dig. Med sin opløftende og healende effekt kan alle være med.
Det Sunde Sinds psykolog Iben afholder løbende kirtan-ceremonier rundt omkring i København og andre steder i Danmark, hvor du har mulighed for at være med.
Du kan også kontakte Iben direkte, hvis du ønsker at booke en kirtan til et privat arrangement.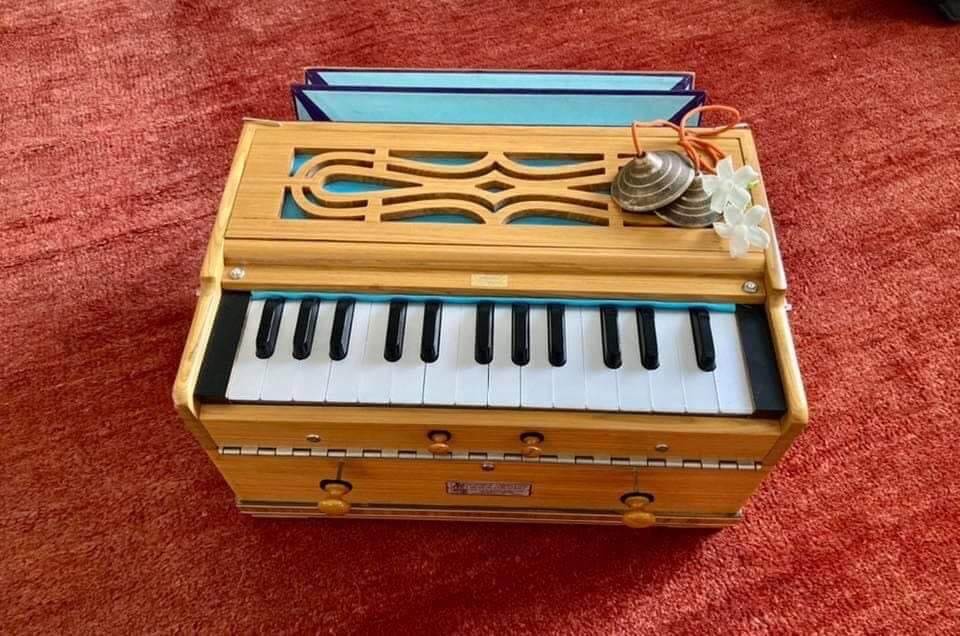 Kirtan Danmark: Hvad er kirtan?
Direkte oversat fra det indiske sprog sanskrit betyder kirtan lovprisning. Som en spirituel musikpraksis har kirtan, også kaldet kiirtan, sine rødder i de gamle, indiske religioner. Til en kirtan-ceremoni synger man meditativ mantrasang i fællesskab med andre. Der findes mange gavnlige effekter af fællessang og kirtan, som du kan læse mere om her i artiklen.
At synge mantraer sammen kaldes også chanting, en slags meditativ fællessang. Et mantra skal forstås som en enkelt stavelse, en række ord eller vers; ved gentagelse har disse en positiv effekt på krop og sind på grund af de unikke vibrationer i ordenes lyd og udtale.
Til en kirtan-ceremoni er der altid en leder, som står for aftenens forløb, og som kender musikken og mantraerne, der synges. Ved simple gentagelser af de forskellige mantraer lærer man hurtigt melodierne at kende, og efter kort tid vil man opleve en større frihed til at være nærværende og mærke musikkens meditative virkning.
Kirtan i København: Chanting og meditativ mantrasang
Mantraer kan have mange forskellige formål; nogle beskytter mod det onde i tilværelsen, andre anvendes til at overvinde følelsen af meningsløshed, og til sidst kan mantraer være meditationsfremmende og have en beroligende eller opløftende virkning. Gennem meditativ mantrasang kan man derfor synge sig til øget ro, fornyet energi og livsglæde.
Når man synger mantrasange til kirtan, behøver man hverken at bekymre sig om at synge tonerne rent eller udtale ordene korrekt. Mantrasang er nemlig en syngende meditationsform med enkle gentagelser, hvor alle kan være med. Flowet og musikken vækker sanserne og skaber et rum, hvor der er plads til bare være i ét med sig selv og hinanden i øjeblikket.
Kirtan i København og fællessangens healende effekt
Musik og sang kan på mange måder påvirke vores nervesystem og energiniveau. Mange har måske selv prøvet, hvordan den helt rigtige sang på en løbetur kunne få dem til at løbe endnu stærkere; eller hvordan roligere musik kan gøre kroppen helt tung og afslappet.
At deltage i kirtan med fællessang og musik kan have mange positive effekter for både krop og sind. Som en syngende form for meditation kan kirtan derfor ligesom mange andre mindfulness- og meditationsformer være gavnlig, hvis man f.eks. har oplevet at være stresset over en længere periode.
Når vi synger, frigives der derudover endorfiner i hjernen, som er hjernens naturlige form for smertestillende og kan påvirke humøret på positiv vis. Der er derfor god grund til at opleve, hvordan vibrationerne i den meditative fællessang ved et kirtan-event i København kan bidrage til dit personlige overskud og din tilstedeværelse nu-og-her.
Kirtan og chanting for alle i København: skal du være med?
Alle er velkomne til kirtan i København, og man behøver ingen tidligere erfaring med kirtan for at være med. Der er både plads til at vende blikket indad til ro og fordybelse, og samtidig være tilstede og opleve fællesskabet, musikken og sangen i rummet. Oplev, hvordan vibrationerne i ordene, sangen og musikken skaber en healende oplevelse!
Er du blevet nysgerrig på kirtan og chanting, og hvad deltagelse kan gøre for dit personlige overskud? Vil du gerne vil vide mere eller opleve fællesskabets og kirtan-ceremoniens transformerende kraft? Så tøv ikke med at kontakte os for at høre nærmere om, hvornår Det Sunde Sind afholder kirtan i København næste gang.
Vil du gerne følge med? Tilmeld dit Det Sunde Sinds nyhedsbrev nederst på siden og følg Ibens facebookgruppe for kirtan-begivenheder.
---
Experience kirtan: Meditative community singing in Copenhagen
Are you looking for a unique meditative experience that includes community, singing and music? Do you want to connect with yourself and your senses and at the same time experience the joy of singing with others? Then a kirtan ceremony might be something for you. Everybody is welcome to join and experience the uplifting and healing powers of kirtan.
Iben, authorised psychologist at Det Sunde Sind, hosts kirtan ceremonies around Copenhagen on an ongoing basis, and now you have the opportunity to join in.
Kirtan Denmark: What is kirtan?
Translated from sanskrit, the sacred language of Hinduism, kirtan means to praise, recite or glorify. The spiritual practice also known as kiirtan has its roots in the ancient Indian religions. At a kirtan ceremony you can expect meditative mantra-singing. Kirtan and community singing benefit the participants in a number of ways that you can read more about in the following sections.
Singing mantras is often referred to as chanting, a meditative community singing. A mantra is a sacred sound, word, phrase or chant. Because of its spiritual power and unique vibrations, repeating a mantra can have a positive effect on both the body and the mind.
At a kirtan ceremony you will meet a leader who is in charge of the evening and knows the music and the mantras. By simple call-and-response repetition, you will quickly get to know the melodies and phrases, and after a short while you will be able to experience greater freedom to be present and feel the meditative and soothing effect of the music.
Kirtan Copenhagen: Chanting and meditative mantra-singing
Mantras can have many possible meaning and purposes. Some mantras are protective against the evilness in life; others can help people overcome the feeling of meaninglessness. And last but not least, mantras can promote meditation and a more calm and uplifting sense of being. Therefore, by singing mantras, people often experience renewed energy and joy.
When singing at a kirtan ceremony, you don't have to worry about singing the notes at the right pitch or pronouncing the words correctly. Singing mantras is a singing meditation form with very simple repetitions, and everybody's welcome to join. Let the flow and the music awaken your senses and create a space where you can be present in the moment with yourself and others.
Kirtan in Copenhagen and the healing effect of community singing
Music and singing have the ability to affect one's nervous system and energy level in a number of ways. Perhaps you've experienced the energizing effect of the right song on a morning run; or how a quiet piece of music is able to affect the body and make it calmer and more at ease.
Participating in kirtan with community singing and music has a lot of positive health benefits. As a singing form of mediation, kirtan shares the potential of many other mediation- and mindfulness techniques. Joining kirtan can be beneficial if you for instance have experienced stress during a longer period of time.
When singing, endorphins are released in the brain. Endorphins act like a natural painkiller of the body, and they can affect your mood and wellbeing in a positive way. There is good reason to experience how the meditative community singing at a kirtan ceremony in Copenhagen can contribute to your personal wellbeing and ability to be present in the moment.
Kirtan ceremony in Copenhagen Denmark: Do you want to join?
Everyone is welcome at our kirtan ceremonies in Copenhagen, and there is no need for prior experience with kirtan to join. A space is created where you can turn the focus of the mind inwards and reach a place of calmness. At the same time, you will be able to enjoy the feeling of being present in the moment with the other participants and experience the community, music and singing.
Have you become curious about kirtan and chanting, and how it can affect your personal wellbeing? If you want to learn more and experience the transforming and healing power of the kirtan practice, don't hesitate to get in touch to find out when our next kirtan event is held in Copenhagen Denmark.
Want to stay updated on the latest news? Subscribe to our newsletter and follow Iben's facebook-group for kirtan events where kirtan ceremonies continuously are being posted: